Current Vacancies
Thank you for your interest in working for the Trust!
---
PLEASE CLICK HERE TO SEE OUR CURRENT VACANCIES AND APPLY VIA E-TEACH.
Alternatively, download and complete the application form below:
---
* All our vacancies are advertised on eteach *
Management Accountant
Management Accountant
Permanent/Full-Time (part time possible for the right candidate)
Hybrid – Monday and Wednesday based in the Wantage office, rest of the week working from home (plus visits to schools as required – schools are all located within a 25minute drive of Wantage)
£40,000 - £45,000 p.a
Are you looking for a really rewarding role, where you'll be able to really make a difference?
Vale Academy Trust is a multi-academy trust with eight schools, and we're opening a brand new school in September, followed by a brand new secondary school a year later! We're in a really exciting period, and we're looking for a management accountant to come and join our close knit, friendly Finance team. We are offering competitive salary, plus the LGPS pension scheme which has an employer contribution rate of 21.1%!
The role
The Management Accountant will be responsible for preparation of accounts, budgeting and forecasting, initially across all our primary schools, with scope for the role to grow to include our secondary schools too. They will be meeting with all our senior leaders in the Trust, and be able to have real input into how the finance systems and processes develop as we move forwards.
What you'll need to succeed
You must be at least AAT Level 3 qualified, and have at least three years management accounting experience. You need to enjoy liaising with people from all across the Trust, and being able to explain accounting matters to those without finance backgrounds. A real enquiring mind, always asking "whats next", enjoying being part of an engaging, friendly team.
What you'll get in return
You will receive a competitive salary between £40,000 - £45,000 dependent on experience, with a fantastic defined benefit pension and 29 days annual leave (plus bank holidays!). The Trust is also willing to support study towards CIMA exams, if this is something the successful candidate wanted to pursue.
What do you need to do now?
If interested in this role, please apply via our Trust website.

job description/person spec and selection criteria
JOB DESCRIPTION - MANAGEMENT ACCOUNTANT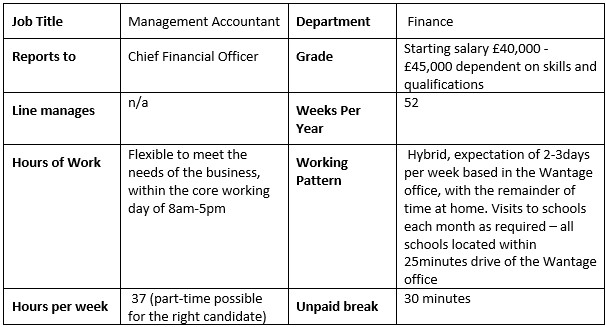 Vale Academy Trust is at a really exciting point, with the opening of a brand new primary school – St Johns – in September 2023. Followed a year later with the opening of a brand new secondary school! You will be reporting to the new CFO, who is keen to encourage skills development and would be happy to support a successful candidate through their professional qualifications. The Finance team are super friendly and are looking forward to welcoming someone new to the team!
The post of Management Accountant will oversee the monthly reporting process including monitoring performance against budgets. They will work with the Chief Financial Officer and Headteachers to set annual, three year and five year budgets, as well as producing monthly accounts, reforecasts and other ad hoc project work.
The post will cover all Trust primary schools, and there is potential to also take on the Trust secondary schools for an able candidate.
There will also be ample opportunity for the successful candidate to influence process improvements and changes as the Trust moves forward, so applications would be encouraged from anyone with audit or process improvement experience.
The successful candidate will have strong management accounting knowledge, great interpersonal skills and enjoy working with a wide variety of people.
As with all Support Staff roles, the overall purpose of the post is to provide support to ensure that the highest quality teaching, learning and working takes place, and that the Trust's aims and objectives, as set out in the Improvement and Development Plan, are achieved.
Main responsibilities:
• Monthly budget monitoring – ensuring complete, accurate and timely reports are produced, with clear narrative for schools as to the reasons behind any variances noted. This includes meeting with school staff to ensure reports are understood and any actions needed are taken.
• Month end processes – oversee the month end process, including balance sheet reconciliations, journals and reporting (all accounts are prepared on an accruals basis)
• Reforecast – work with the CFO and Headteachers to complete reforecasts and ensure projected income and spend is as accurate as possible
• Budget setting – work with the CFO and Headteachers to set annual, three year and five year budgets, that are realistic, accurate, and account for expected changes and fluctuations
• Financial planning – on an ad hoc basis, produce financial analysis and forecasts for potential changes within schools, helping staff understand the potential impact
• Benchmarking – ensure KPIs are accurate and relevant, and perform benchmarking against other Trusts / national data
• Responsible for monitoring and administering the finance system, ensuring inputs are accurate, correcting any errors identified and training new users on the system
• Year end process/audit – in conjunction with the CFO, ensure the year-end processes are accurate and complete (eg. depreciation journals) and all documents are prepared for the auditors.
• Actively share knowledge with more junior team members, contributing to a culture of continuous improvement
• Partake in the updating of the Financial Regulations each year, ensuring compliance within our Trust
• Committed to a culture of continuous improvement, proactively generating ideas for improvement and always looking for "what's next"

Whilst the main responsibilities are outlined here, these are not exhaustive. The role is Senior in nature and thus is responsible for ensuring all reasonable actions are taken to achieve the overall role objective above, especially as Trust needs change.
PERSON SPECIFICATION AND SELECTION CRITERIA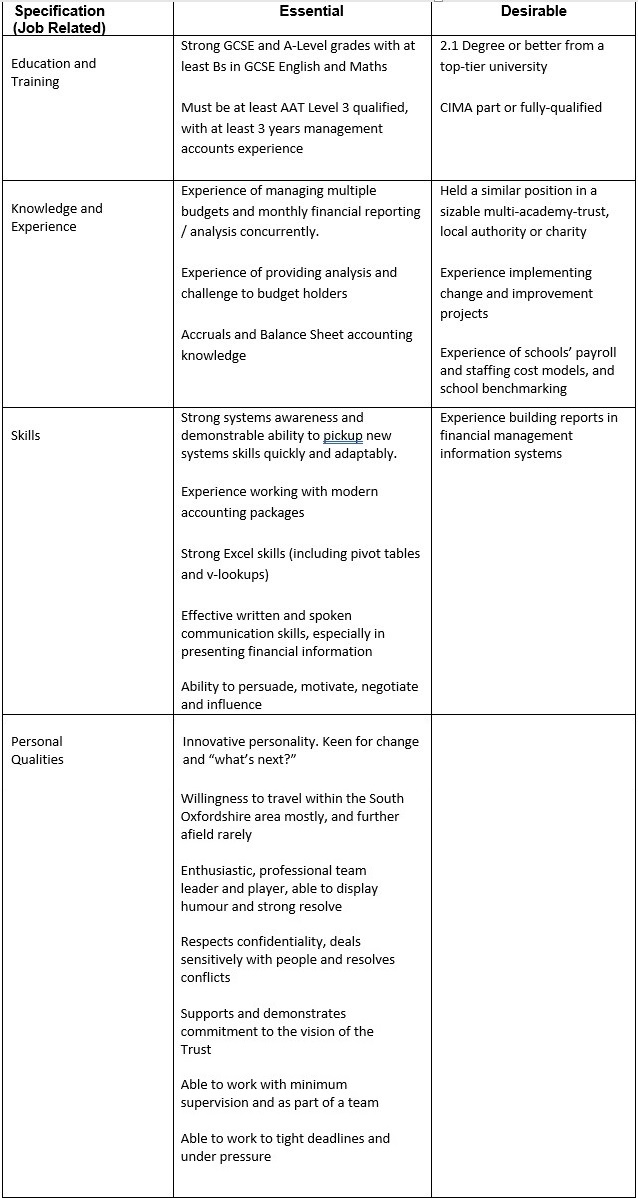 HEAD OF SCHOOL - CHARLTON pRIMARY SCHOOL
For further information, please click the link below to take you to Charlton's website
Finance Officer - Fixed Term Contract
Information to be uploaded
tEACHER WITH EARLY YEARS LEAD RESPONSIBILITY IN BRAND NEW SCHOOL
NEW POST IN ST. JOHN'S CE PRIMARY ACADEMY
Start Date: September 2023
Pay Scale: Teacher Scale (Main/Upper) + TLR 2.1
This is a unique and exciting opportunity for an innovative Teacher to join our new school, St John's CE Academy in Grove, as a class teacher and EYFS lead in a brand-new all-through school to create something truly special. We are looking for a caring and inspirational person full of energy and positivity to shape the future of the children in our large Early Years Unit.
Not only will you be an excellent classroom teacher and role model, but you will also work closely with the Head of School to support the leadership of the school and the Early Years team. The role will be predominantly classroom based with leadership time.
We are interested in hearing from outstanding EYFS teachers/existing leaders who:
- are passionate about young children's learning and determined to ensure all children succeed
- have a track record in consistently delivering outstanding teaching and experience in supporting EYFS colleagues to develop their own practice
- can lead the development of an innovative EYFS curriculum to create irresistible learning, ensuring all pupils make a happy and successful start to their learning journey
- can maintain high expectations of their team and form effective working relationships, communicate clearly and possess a strong sense of fun
- are truly excited by the opportunity to set up a brand-new school and create a new team!
To be find out more about our new school visit our website: www.stjohnsceacademy.org

Or contact Kerry Cottrell, Primary Head of School, to arrange an informal chat:
enquiries-primary@stjohnsce.vale-academy.org

JOB DESCRIPTION/PERSON SPEC AND SELECTION CRITERIA

Main Purpose
The teacher will:
• Fulfil the professional responsibilities of a teacher, as set out in the School Teachers' Pay and Conditions document (STPCD)
• Meet the expectations set out in the Teachers' Standards
• Take specific responsibility and accountability for the day-to-day management and organisation of the Nursery and Reception classes
• Line manage and appraise the Early Years Manager and Reception Class Teacher(s)
• Assist in the smooth running of the school at all times
Teaching
• Plan and teach well-structured lessons to assigned classes, following the school's plans, curriculum and schemes of work
• Assess, monitor, record and report on the learning needs, progress and achievements of assigned pupils, making accurate and productive use of assessment
• Adapt teaching to respond to the strengths and needs of pupils
• Set high expectations that inspire, motivate and challenge pupils
• Promote good progress and outcomes by pupils
• Demonstrate good subject and curriculum knowledge
• Participate in arrangements for preparing pupils for external tests
• Demonstrate best practice in early years education, using engaging strategies to boost classroom engagement
• Show excellent knowledge of the Early Years Framework, including latest requirements and developments
• Lead by example, with the highest professional and personal standards, and classroom management
• Offer practical support to practitioners and classroom teachers

Teaching and learning responsibility
• Use professional skills and judgment to provide strategic and practical leadership
• Lead, manage and develop, and provide guidance for other teachers, including training, support and advice to improve school practices
• Improve standards with demonstrable changes for pupils outside of their own classroom or group of pupils
• Provide strategic leadership, showing up-to-date knowledge of sector trends and developments
• Review curriculum as required, highlighting areas where teaching can be broadened and attainment improved, and providing data to the headteacher or others as required
• Provide line management for the Early Years Manager and Reception Teacher(s), providing feedback and additional support as needed
• Be the voice for the Early Years, ensuring classroom teachers' experiences and opinions are represented within the school, including dealing with any issues on a day-to-day basis
• Communicate effectively with pupils, parents and carers
Whole-school organisation, strategy and development
• Contribute to the development, implementation and evaluation of the school's policies, practices and procedures, so as to support the school's values and vision
• Make a positive contribution to the wider life and ethos of the school
• Work with others on curriculum and pupil development to secure co-ordinated outcomes
• Provide cover, in the unforeseen circumstance that another teacher is unable to teach
• Ensure teaching and learning is aligned with the school ethos, identifying any procedural issues and providing workable solutions
• Lead by example, with the highest professional and personal standards and classroom management
• Collaborate and work with colleagues and other relevant professionals within and beyond the school
• Develop effective professional relationships with colleagues
Health, safety and discipline
• Promote the safety and wellbeing of pupils
• Maintain good order and discipline among pupils, managing behaviour effectively to ensure a good and safe learning environment
• Being aware of and complying with policies and procedures relating to child protection, Health & Safety and security, confidentiality and data protection, reporting all concerns to the Primary Head of School.
Professional development
• Take part in the school's appraisal procedures
• Take part in further training and development in order to improve own teaching
• Where appropriate, take part in the appraisal and professional development of others
• Take part in professional development, sharing ways to improve subject teaching with others
• Lead other teachers in maintaining subject knowledge and latest pedagogical developments
Personal and professional conduct
• Uphold public trust in the profession and maintain high standards of ethics and behaviour, within and outside school
• Have proper and professional regard for the ethos, policies and practices of the school, and maintain high standards of attendance and punctuality
• Understand and act within the statutory frameworks setting out their professional duties and responsibilities
Management of staff and resources
• Direct and supervise support staff assigned to them, and where appropriate, other teachers
• Contribute to the recruitment and professional development of other teachers and support staff
• Deploy resources delegated to them
General Responsibilities
● Ensuring compliance with the Trust's Equal Opportunities and Equalities Policies and taking an active role in promoting equality and diversity.
● Promoting the Trust's policies on behaviour for learning, and demonstrating a commitment to providing a caring and stimulating environment and improving standards for all pupils within Trust.
● Undertaking such other duties as reasonably correspond to the general character of the post
● Employees will be expected to comply with any reasonable request from a manager to undertake work of a similar level that is not specified in this job description.
Whilst every effort has been made to explain the main duties and responsibilities of the post, each individual task to be undertaken may not have been identified.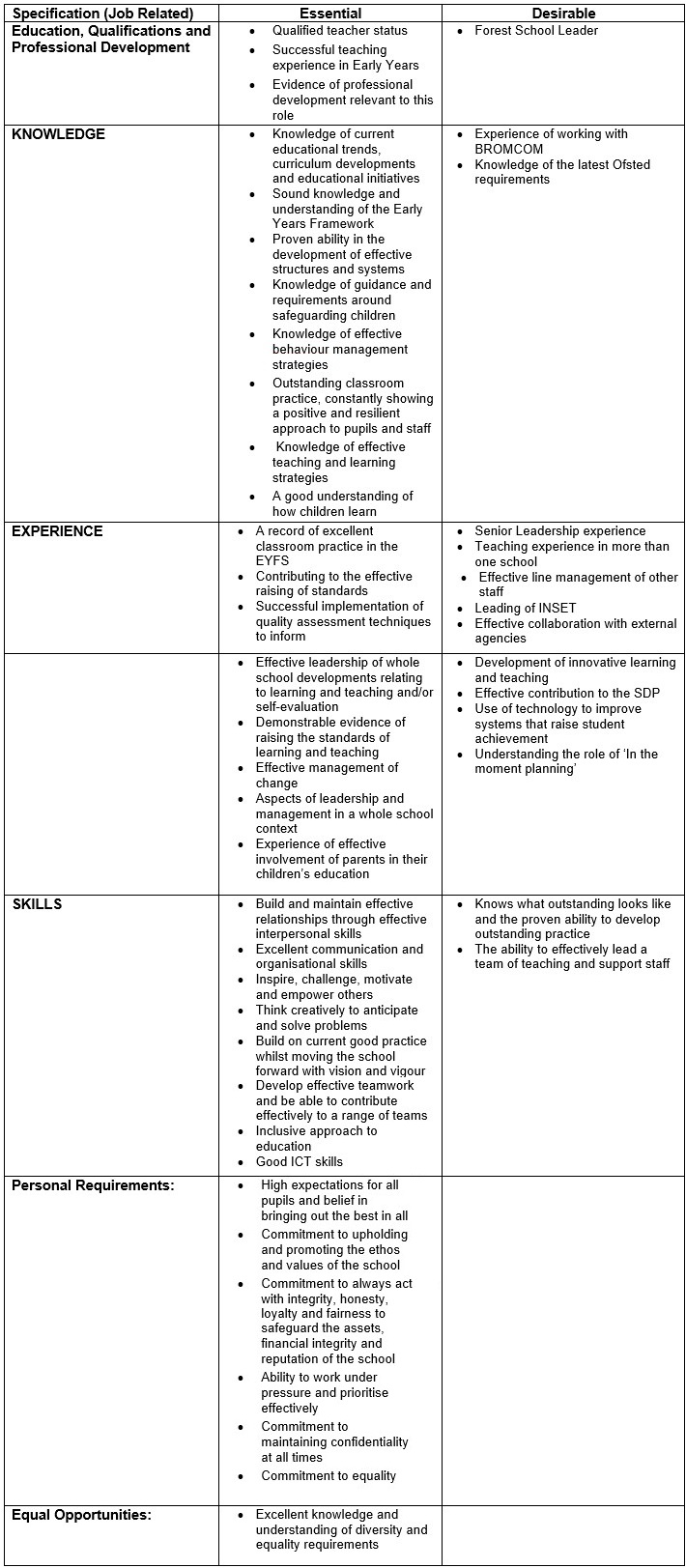 SAFER RECRUITMENT STATEMENT
The Vale Academy Trust is committed to safeguarding and promoting the welfare of all children and preventing extremism. We expect all staff and volunteers to share in this commitment. All post holders in regulated activity are subject to appropriate vetting procedures and a satisfactory Disclosure and Barring Service (DBS) Enhanced Check.
Shortlisted candidates will be subject to online searches for publicly available information.
The Vale Academy Trust is an equal opportunities employer and we welcome applications from a range of backgrounds to represent diversity in line with our schools' communities.