St John's CE Academy - OPENING SEPTEMBER 2023
We are recruiting!
Join us on Wednesday 22nd March at 4pm to find out more about the roles we will have available in our school. To find out more and book a place click the link below:
The Vale Academy Trust is opening a new school in Grove - St John's Church of England Academy. Located on the Wellington Gate Development, it will be a purpose-built, 'all through' school for children aged 2 through to 16 (Nursery to Year 11).
We plan to open the nursery and the primary phase (Reception Year) for children in September 2023. We will be accepting applications for Reception children from 1st November 2022. Nursery applications will be accepted from January 2023.
Please visit the school website for further information:

The Vale Academy Trust was delighted to be successful in its application to run the new school in Grove on the Wellington Gate Development which is called St John's CE Academy.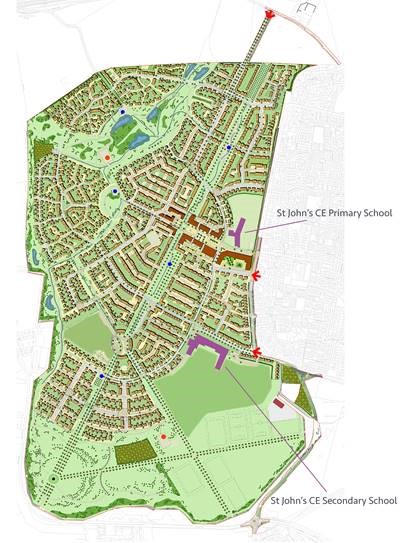 St John's CE Academy
The school is being built primarily, but not exclusively, to meet the need of families living in the new development of Wellington Gate. The existing local schools do not have the space to meet this additional need. We hope that this new school will become a key part of the local community, providing a focal point not only for families but also for events and facilities for the wider community beyond the school.
St John's will have brand new facilities for teaching and learning, built for purpose and fully fitted out to deliver a high quality education for our pupils. There will be specialist teachers and specific areas for specialist subjects in the secondary department. We will have large open fields and play areas and a dedicated Forest School area in the primary school's grounds. The proposed staffing structure for the primary phase has already been mapped out by Kerry Cottrell, Primary Head of School, alongside an exciting curriculum.
We chose to deliver this school as an 'all through ' from Nursery to Year 11 because there is no other similar facility locally and we wanted to give parents a wider choice. The secondary and primary schools will work closely together so when pupils move from one to the other, they are well prepared. Children who join the school at Year 7 will also be fully supported to make a smooth transition from whichever primary school they attend.
The facilities will be available for use by parents and the local community when not in use by the school.
St John's is a Church of England School and we work in close partnership with the local Diocese. However, the school will be open to families of all faiths, or none. Our core Christian Values provide a strong foundation for all our pupils to become independent learners and confident young people.
If you would like to see the catchment area for the school please click HERE. You can still apply for a place even if you do not live in the catchment area.
The Vale Academy Trust
The work of the Vale Academy Trust is underpinned by our core values, which are:
RESPECT / AMBITION / COLLABORATION / INTEGRITY / KINDNESS
We currently run 8 successful schools in the Wantage and Abingdon area and are proud of our pledge:
To ensure our schools offer safe, secure and happy environments and are exciting, stimulating places to be
To strive to improve the outcomes for every child, encouraging them to reach their fullest potential for the duration of their time at school
To provide a range of Trust-wide opportunities and widen horizons that add value to the school experience and 'Involve, Engage, Enrich and Inspire'
To encourage, empower and support our staff in becoming first class education practitioners and to recruit only the best, inspirational teachers to work for us.
As an 'all through' school at the centre of the new Wellington Gate community, St John's will offer something a little different from any of our current schools. But we believe using our experience of providing education based on our Trust vision and values it will become an outstanding member of our group of schools.
Reception Admissions
We are delighted that you are considering St John's CE Academy for your child. Choosing a school is a big decision for you and your family, and we are here to support you throughout the application process by answering any questions you may have.
There are two steps to apply for a place at our school:
1. Complete the School Application Form and return directly to us (Vale Academy Trust). Download the application and return via email or post.
2. Complete the Common Application Form available from Oxfordshire County Council for your other choices of school. St John's CE Academy will not appear on the OCC list. Please select your other choices and OCC will contact parents about your order of preference after the January deadline.
The Common Application Form should be returned directly to Oxfordshire County Council and can be found using the link below:
You must complete both steps to apply for a place at St John's CE Academy.
Applications for Reception children open on 1st November 2022 and will close on 15th January 2023.
Offer letters will be sent on 17th April 2023.
Nursery Admissions
Applications for our nursery are now live!
Please use the link below to complete an application for your child:
enquiries-primary@stjohnsce.vale-academy.org
The closing date for applications is Friday 3rd February