Teacher Cat Boaz Receives Her 'Primary Science Teacher of the Year Award' at Special Ceremony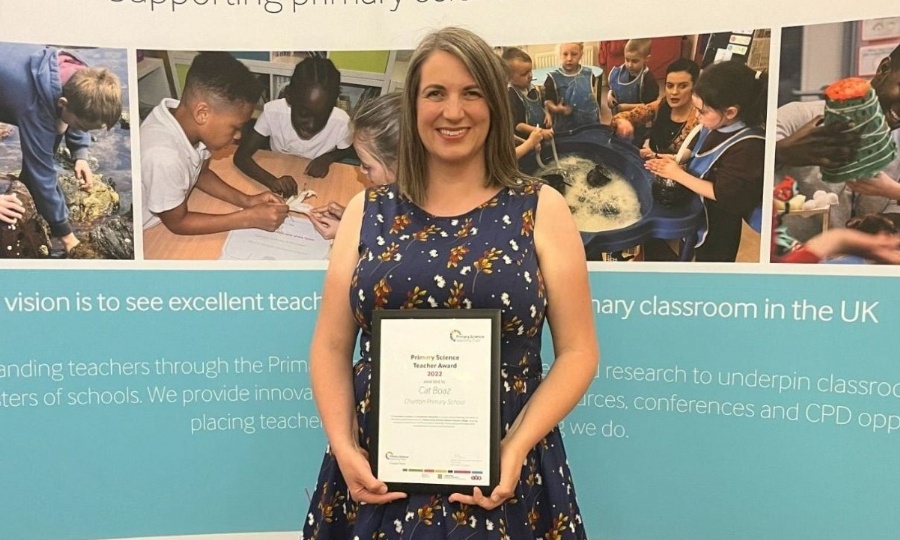 After winning the prestigious 'Primary Science Teacher of the Year' award last year, Charlton Primary School Teacher and Trust STEM Lead Cat Boaz attended a special awards ceremony last week to formally receive her framed Awards Certificate.
The ceremony was held at the Chesford Grange Hotel, in Kenilworth near Warwick.
Introduced by the Primary Science Teaching Trust, the award recognises and rewards outstanding primary science teachers.
Cat has recently been very busy organising another hugely successful Science Fair which took place on 9 June at Rutherford Appleton Laboratory (RAL). A total of 12 schools took part in a full day of science activities to celebrate the end of Science Week. Other local schools who are part of our Ogden partnership were also invited.
In the lead up to the event, each school held a science week during which pupils asked science questions and designed investigations - all with a green theme to coincide with "Green Week" at RAL. The winning teams from each school went forward to finals day at RAL. Pupils presented their investigations to scientists from RAL who did the judging. In the final presentation (which was live-streamed back to school) pupils received certificates, a medal and some very generous prizes supplied by RAL.
We are incredibly grateful to RAL for facilitating the day. In particular allowing us to use their inspirational visitor center; organising a practical workshop on meteorites and putting on a spectacular liquid nitrogen science show. We would also like to acknowledge the passion and enthusiasm of secondary pupils from Larkmead who spent all morning doing a highly interactive session designed to engage primary pupils in science. They were later rewarded with a tour of the facilities at RAL and chance to see big Science in action.
So our heartiest congratulations Cat - on both your own award and a spectacular science event for Vale Academy Trust pupils!