In the Forefront of Inspiring Children in Science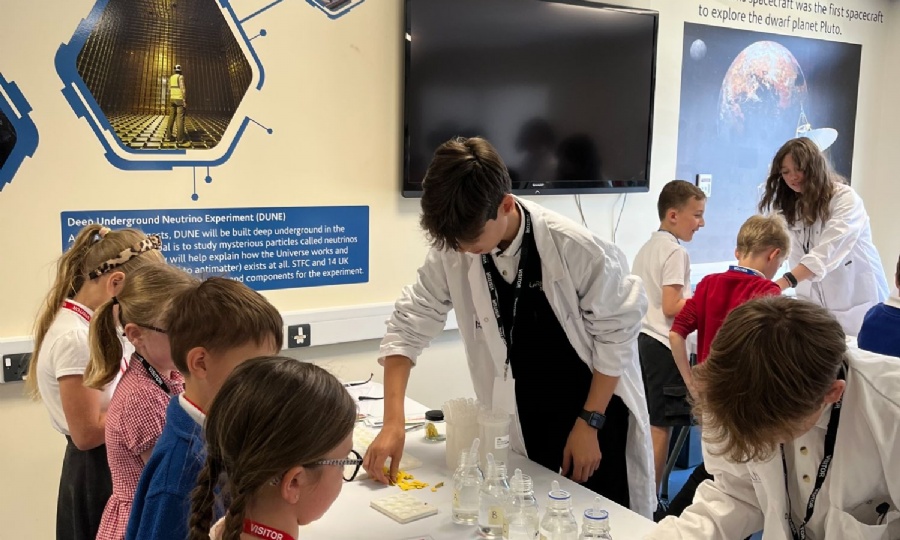 Wednesday 15th June saw just over 100 pupils from the Vale Academy Trust and the South Oxfordshire Ogden Trust Partnership gather together to celebrate science at the South Oxfordshire Science Fair Grand Final. It was held at the Rutherford Appleton Laboratory Visitor Centre, offered free of charge for the event.
It all began when The Vale Academy Trust put forward an exciting proposal to the Ogden Trust for a 'Science Partnership' involving 2,200 pupils across 9 schools in the area. Since then, armed with four years of funding, training and resources, a range of activities have taken place, including the Science Fair Grand Final.
In recent months, primary pupils have been leading their own science investigations to answer science questions. Schools held individual science fairs to choose their winners in three age groups. The finalists from each school then took part in the Grand Final. More activities are being planned for the next academic year to ensure continuing access to a good quality, inspiring physics education.
During the morning, the children shared their exhibits with other children and the judges from the UK's Science and Technology Facilities Council (
) and UKRI, displaying their enthusiasm, knowledge and real passion for science. A highlight for the primary pupils was spending time with pupils from KS3 from Larkmead School and King Alfred's Academy. These secondary pupils had worked in their own time to devise demonstrations and hands on activities for the younger ones to enjoy. Ian Snell from Science Oxford ran a competition to build the slowest marble run. There were many WOW moments – and not just from the pupils!
A Larkmead student observed: "I really enjoyed teaching the younger students new things – I liked the look of 'wow' on their faces!" Another commented: "I feel like it really helped to grow my confidence with talking about science and made me realise I know a lot about the key words."
Secondary pupils from Fitzwaryn Special School also attended, talking to the children about their projects, providing help to anyone who needed it and delivering the all important biscuits!
In the afternoon, Dr Neil Geddes (STFC Executive Director National Laboratories - Science and Technologies) presented medals and certificates to the first place winners and certificates for the highly commended exhibits in an event that was live streamed so that parents and schools could watch.
Some of the winning questions included, 'Which is the best biscuit to dunk in a cup of tea? Do aerodynamics affect how far a car will travel? Which rock will make the biggest splash?' The afternoon concluded with a demonstration of liquid nitrogen.
Cat Boaz (STEM Specialist Teacher with the Vale Academy Trust and South Oxfordshire Ogden Trust Partnership Lead.) said:
"It was a delight to see so many future scientists, sharing their projects and passion with others. Primary children were engaging in the science work of their peers across schools and secondary pupils were teachers and growing in their science confidence.
This event significantly increased the science experience of not just the children who attended the final, but all of the children who worked on their projects in their schools. Teachers also undertook extra training on how to support children to follow their own ideas in science – not an easy task with 30 children in a class! Huge congratulations to everyone."
Vicky Stowell from STFC summed up:
"It was so lovely to see all the hard work that the children had put into their science experiments and posters. Their enthusiasm was just infectious and a joy to see. As one of the judges, it was a really hard job to decide on a winner from each category because they all did such amazing work and presented themselves so well.
It was also wonderful to watch the older students from Larkmead and King Alfred's Schools demonstrating various science experiments and engaging with the primary school students – they worked hard to make their experiments engaging and interactive and the children were really keen to join in. "
The Vale Academy Trust has invested in building a "Phizz Lab" over the summer at Millbrook Primary School - a purpose-designed science lab where pupils from across the Trust's primary schools can immerse themselves in a wealth of science experiences.