MATHS IN MOTION SUCCESS FOR CHARLTON PRIMARY SCHOOL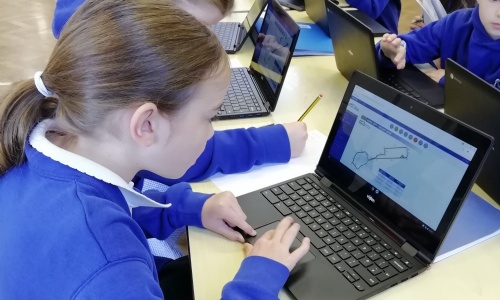 Year 6 pupils at Charlton Primary School in Wantage have enjoyed participating in this year's 'Maths in Motion' Junior worldwide challenge.
The competition, open to any school, involves pupils setting up their F1 racing cars to their maximum potential in order to race against drivers and teams from other schools using on-line software. During weekly sessions pupils work in teams to work out how to construct their cars for optimal performance, and then race as individual drivers.
Just like in real F1, the pupil 'drivers' compete against each other for points. There's also a Constructors' Team table. Competitors need to consider things like safe speeds, ideal suspension and gear ratios and try them out on 'practice laps', upon which grid positions are determined. Once drivers are set up on the grid, you press 'go' and the software takes over, displaying a race commentary as the race progresses.
Teacher Mrs Chris Walters who leads the Maths in Motion project at the school explains: "It's our 2nd year being involved and it's going from strength to strength. Pupils really enjoy applying and enhancing their Maths skills in real life scenarios, working collaboratively to achieve success and win.
They really enjoy the competitive element and it's fantastic to hear them chatting about engine temperatures, tyre choice and fuel requirements in such a knowledgeable and enthusiastic way."
Throughout the year, knockout rounds are held, culminating in a World Final, all on-line. There are also 'just for fun' events and monthly competitions.
Chris Walters added: "Pupils will have completed 14 races by the end of the year, the last one being the Singapore Grand Prix – a gruelling 80 laps! It's Maths enrichment at its best and a brilliant way of introducing pupils to STEM subjects".