WANTAGE CE NURSERY WINS FIRST PRIZE IN SCIENCE COMPETITION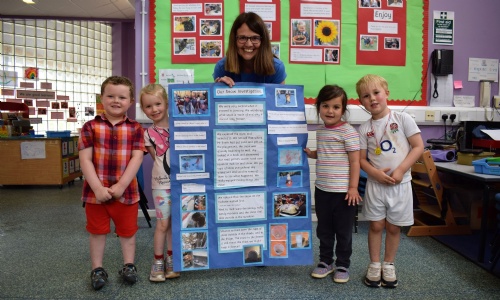 Have you ever wondered - What makes snow melt faster?
This is just what 4 budding scientists from the nursery class at Wantage CE Primary School wanted to find out when it snowed in January this year. With the help of Mrs Godfrey, their teacher, the children tried all sorts of experiments to find out. They put snow in a freezer and on a radiator; they made a mixture of snow, sand and salt (just like the caretaker, Mr Smith); and they watched what happened to the snow that they left outside in the sunshine. The young scientists did such a brilliant job with their experiments that Mrs Godfrey helped them to write it up as a huge poster, and entered it in the Science Oxford Big Science Event competition.
An annual competition, Science Oxford's Big Science Event challenges teams of children to create their own science experiment or investigation and present their findings to a panel of friendly judges.
Primary school children from 18 schools took part in the Big Science Event grand final online on Friday 2nd July to find the most engaging and creative young scientists in the region.
We were delighted to be announced as this year's winners, and we are the proud recipients of a generous £250 voucher for playground equipment from the competition sponsors Playforce, as well as prizes of science kits and learning supplies thanks to global healthcare company Abbott, based in Witney.