LARKMEAD IS ONE OF SIX UK SCHOOLS CHOSEN TO PARTICIPATE IN NATIONAL PHILOSOPHY IN EDUCATION PROJECT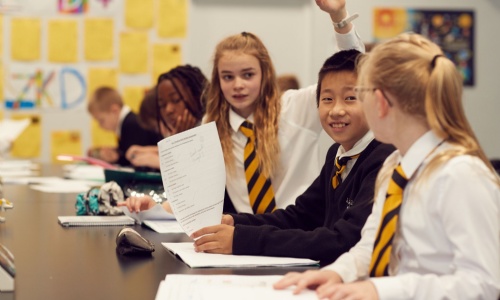 Staff and students at Larkmead School in Abingdon were delighted to hear recently that they have been picked to take part in a prestigious 3-year project aimed at developing philosophical teachers and learners in the classroom.Please enter an introduction for your news story here.
They have been chosen as one of only 6 schools to be involved in a project run by the Templeton World Foundation and SAPERE (Society for the Advancement of Philosophical Enquiry and Reflection in Education). The project will see Larkmead School training in Philosophy for Children (P4C) and developing cross-curricular skills and collaboration between their Philosophy/Religion and Science departments.
Staff and students together will develop skills and techniques for philosophical thinking, reasoning and reflection, enhancing their capacities for intellectual curiosity and wonder. A special programme aimed at students will provide regular practice in Philosophy for Children, encouraging them to initiate and enjoy intellectually challenging conversations, and to 'think like theologians and scientists'.
Jonathan Dennett, Headteacher, said "This initiative will see Larkmead students developing skills across and beyond the curriculum. We aim to nurture curiosity and creativity, and this project will help students succeed academically as well as in their later life."
He continued: "This offers a great opportunity both for the school and the Vale Academy Trust in the years to come and is yet another example of how we focus on creating developmental experiences here at Larkmead."
Jen Simpson, Project Manager for SAPERE, said "We are thrilled that Larkmead is joining our Thinking Together in Science and RE project. It's exciting to be working with students and staff to help them really explore those big concepts which we find in both science and RE – concepts like existence, creation, diversity and change – and which we know are really important to young people."
The school will be able to access training and support worth over £10,000 as they achieve different award levels. Once trained, Larkmead staff will work with other colleagues at schools across the Trust to introduce the initiative Trust-wide.